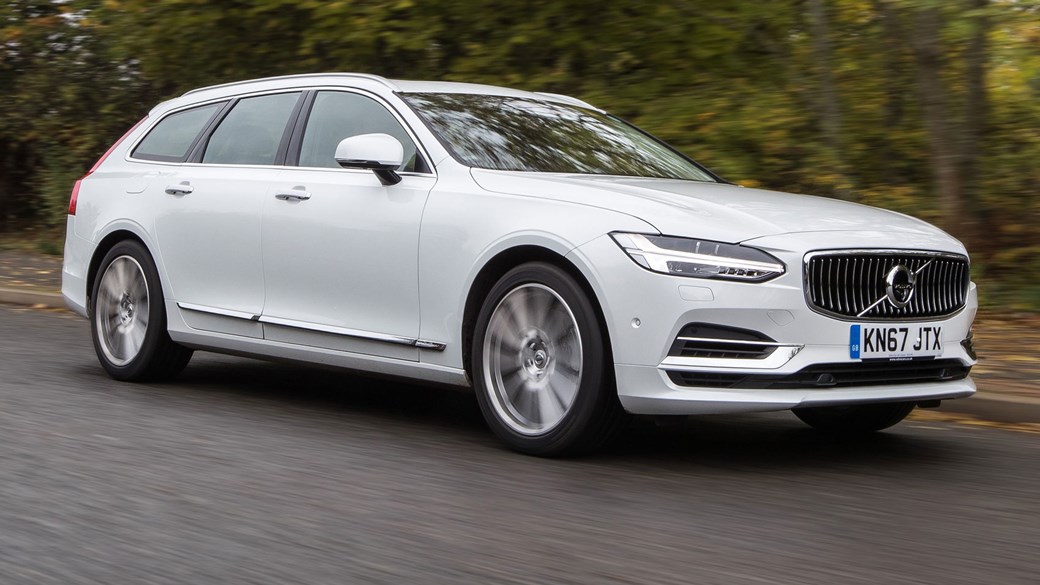 Repeated tests of many versions of the Volvo V90 have convinced us beyond doubt that the big estate is on the whole a very fine thing. It's up against some excellent alternatives from the premium German manufacturers, but can hold its head high in that company. Its style, refinement, practicality and innovative, family-friendly interior all make it a very smart alternative.
Like the S90 saloon and huge-selling XC90 SUV, the V90 is visually arresting, sophisticated, safe and comfortable. One of the least interesting aspects of the V90, however, is its range of engines… until now. With the T8, the spotlight is trained on the plug-in petrol-electric hardware, and the questions are all about what it is, how well it works and whether it's worth it.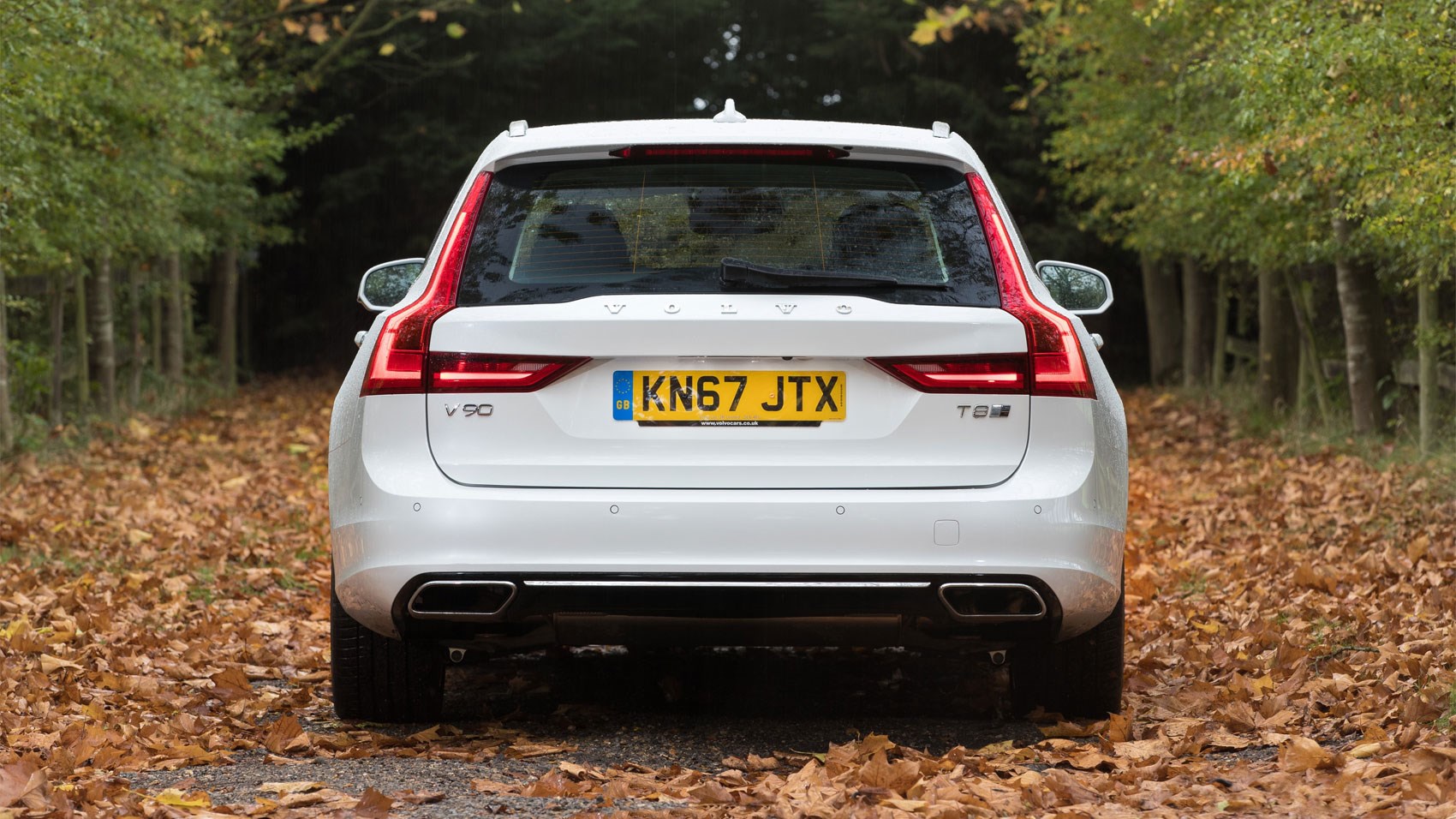 So what exactly is the T8?
It's not an eight-cylinder V90, for a start. It has a turbocharged and supercharged four-cylinder petrol engine driving the front wheels via an eight-speed automatic gearbox and an electric motor on the rear axle.C
The petrol engine musters 316bhp, making it the joint most powerful V90 alongside the Cross Country T6. But the electric motor adds a further 87bhp. The engine and electric motor can be used singly or together.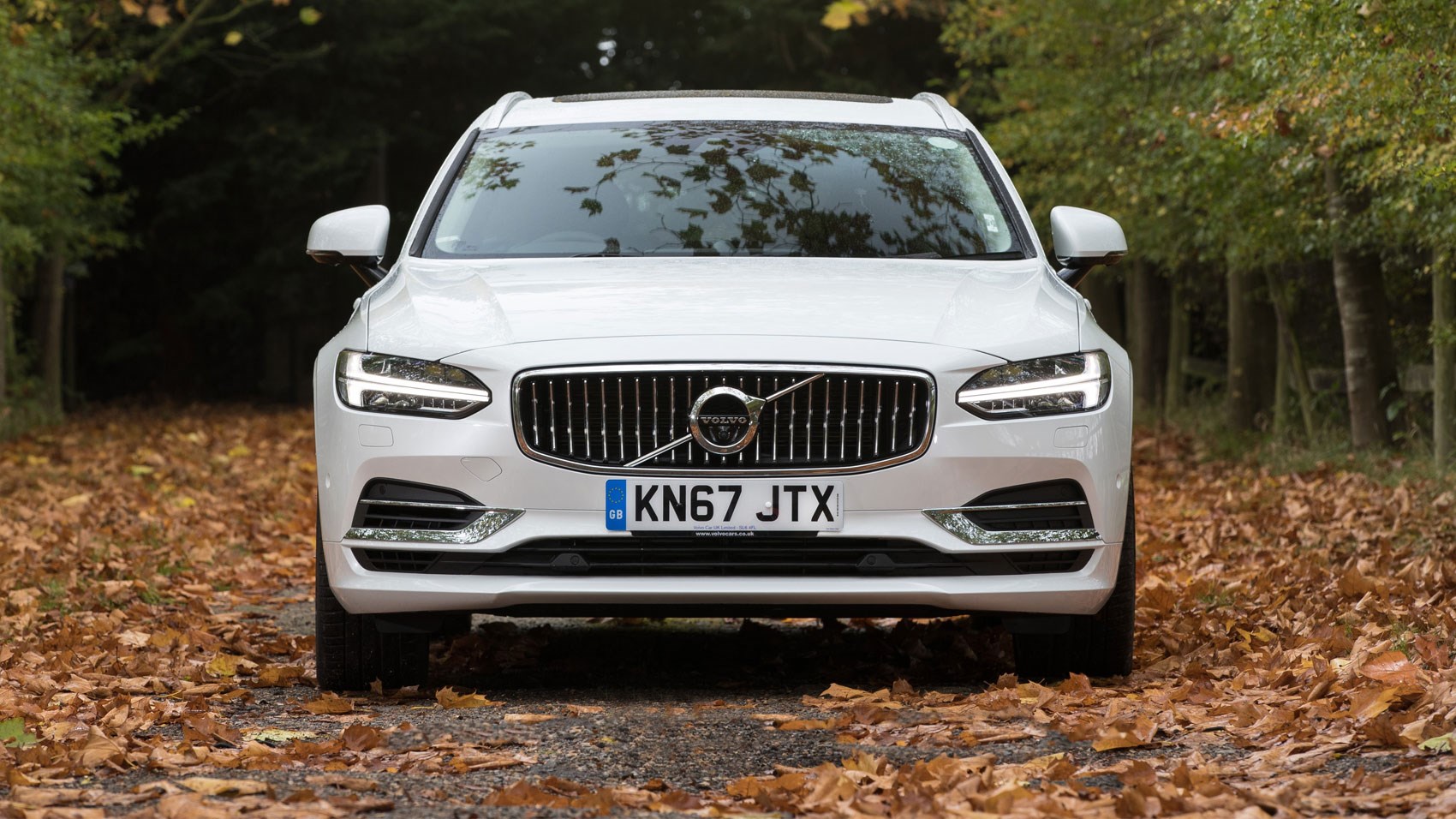 You get a choice of R-Design Pro and Inscription Pro versions, both at the upper end of V90 spec levels. The slightly more techy, sporty R-Design Pro is priced from £58,455 on the road, while the Inscription Pro is £59,705. They're both about £24,000 more than the least expensive V90. But perhaps the more significant figures concern benefit-in-kind taxation for the T8s, which are much lower than for any other V90 variant.
How do you drive it?
You can just bung it in D and let the car get on with it. It defaults to Hybrid mode, which will blend petrol and electric propulsion nigh-on seamlessly depending on various factors including throttle position, road speed and available charge.
Other modes are Power (which brings a slightly harder edge to everything), Pure (which runs as cleanly as it can) and All Wheel Drive (for slow, slippery conditions).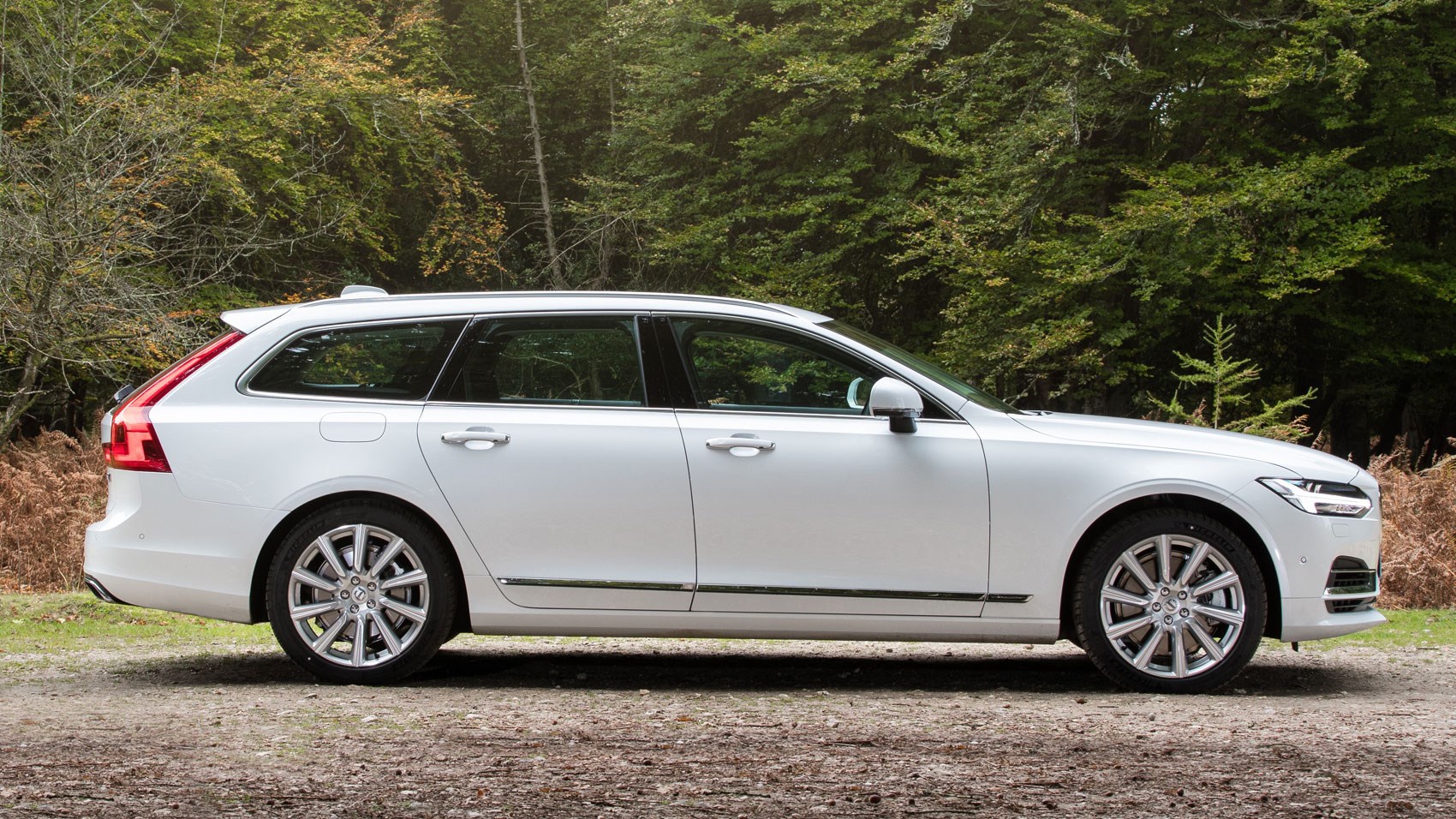 There's more you can do. A Hold function will maintain the battery at its present level, so you can save the charge for later. A Charge button will sacrifice some mpg in order to get the battery level up. The B setting on the gearlever stands for engine braking: when your foot is off the gas, there will be a degree of engine braking, to direct some electricity into the battery.
As well as the usual trip computer read-out of short- and long-term fuel consumption, there are bar charts and animated diagrams showing whether you've been using petrol or electricity, and how much of it.
How economical is it?
That depends on how you drive it (and how much, if anything, you're paying for the electricity that can fill the battery in about four hours and give you a battery-only range of 20-odd miles).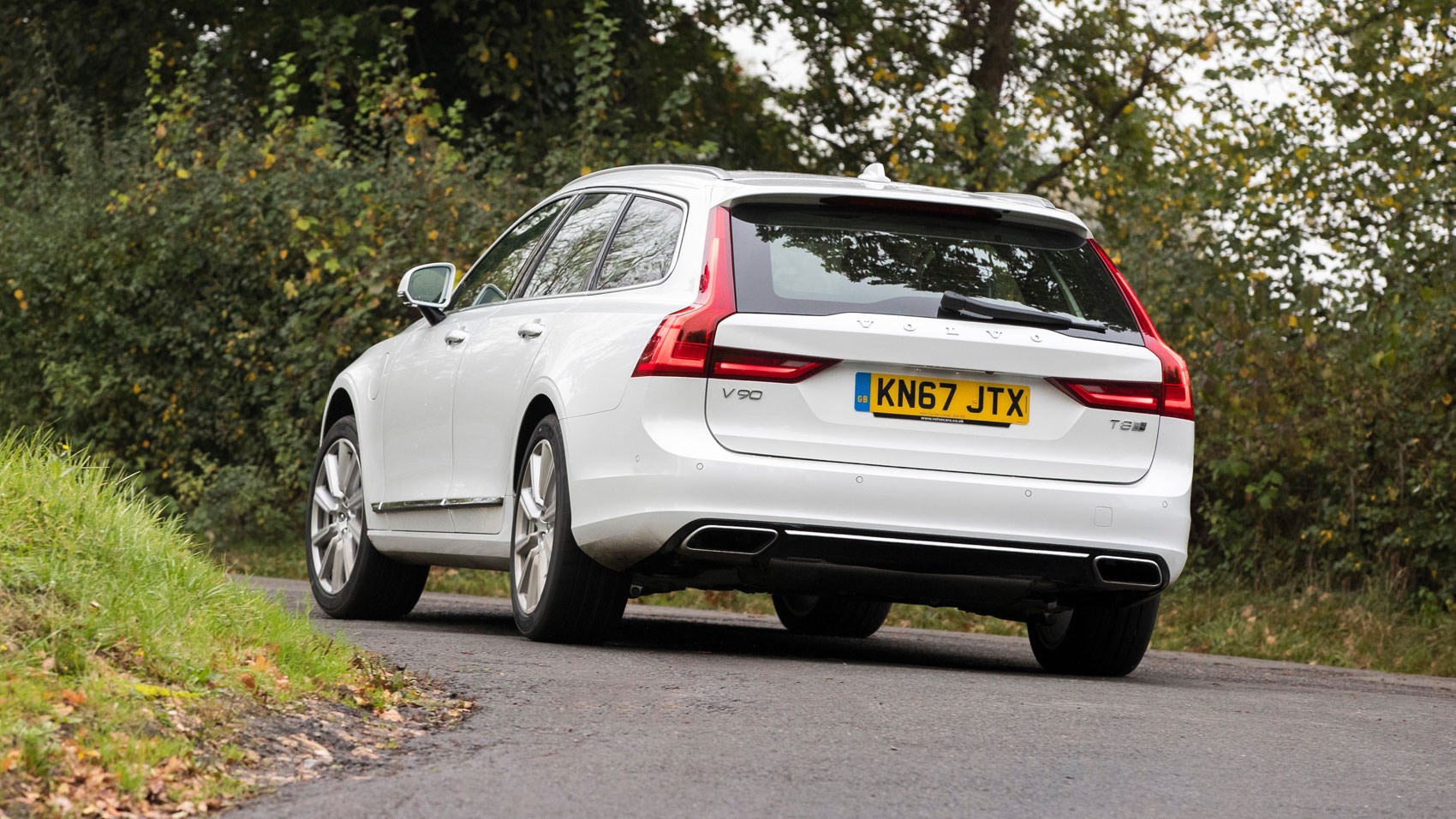 In Pure mode, it's not difficult to get mpg into the low-40s if you drive smoothly. In Power mode, you won't struggle to drop to the low 20s. Hybrid mode, in mixed use, gave us high 20s.
But who buys a 400bhp, 155mph estate car in order to drive it slowly and steadily? If you've got that performance on tap, surely you'll be inclined to use it when the opportunity arises. And then you're back to square one, with a big, heavy and fairly thirsty car.
What do you get for your money?
Our test car was in Inscription Pro trim, but was also fitted with the Xenium pack (big sunroof, 360º parking camera, automatic parking), the Intellisafe Surround pack (blind sport warning with steering assistance, cross-traffic alert), the Family Pack (child-friendly rear seats, powered child locks), plus a bunch of individual options, taking the on-the-road price to £69,125.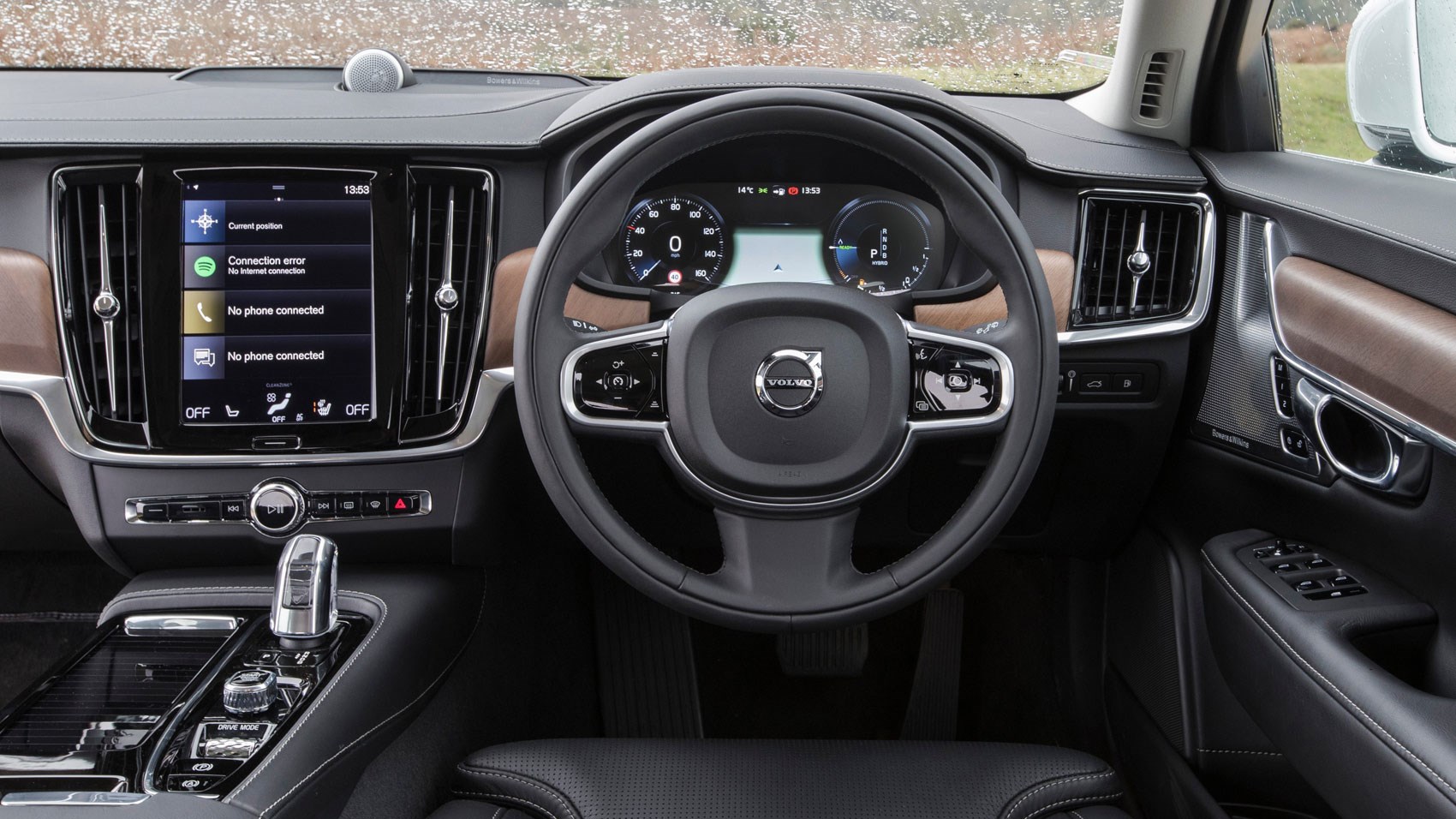 But every V90 comes with a long and impressive list of infotainment delights and comfort and safety features as standard. That includes the Pilot Assist semi-autonomous function. It will – in certain conditions – keep you within your lane and at a steady distance from the car in front; it will accelerate, brake and steer, so long as you don't take your hands off the wheel for more than a few seconds. But when you come to a roundabout, or a stretch of straight road where the road-edge markings are patchy, it will insist you take full control.
Verdict
Spending several hundred miles in the T8 was a welcome reminder of what a fine car the Volvo V90 is. Agile for its size, smooth and comfortable, with a lovely cabin and a handy turn of speed.
But the hybrid aspect is baffling. Volvo's bold claims about moving rapidly to an all-electrified range start to look a little hollow if this is what they mean. Use the performance and you lose the economy.
A better all-round package might be a D5 diesel, which isn't as quick but still plenty quick enough, and isn't as clean and frugal on paper as a T8 but in reality would be just as economical on the road for many drivers.
Specs
| | |
| --- | --- |
| Price when new: | £59,705 |
| On sale in the UK: | Now |
| Engine: | 1969cc 16v supercharged and turbocharged 4-cyl, 315bhp @ 5700rpm, 295lb ft @ 2200rpm, plus 86bhp electric motor |
| Transmission: | 8-speed automatic, all-wheel drive |
| Performance: | 4.8sec 0-62mph, 155mph, 141.2mpg, 46g/km CO2 |
| Weight / material: | 2042kg/steel |
| Dimensions (length/width/height in mm): | 4936/1895/1475 |
Source: carmagazine