Aston Martin's new Valkyrie hypercar, developed with Red Bull Racing and Cosworth, will deliver a massive 1160bhp total power output at a heady 10,500rpm, as well as 664lb ft at 6000rpm, according to the latest specs released today.
The company has released the full performance specs of the V12, and the Rimac-sourced hybrid system – the electric assistance makes up 160bhp and 207lb ft (enough to power a relatively fruity warm hatchback in its own right!).
CAR gets up close with the Aston Martin Valkyrie
The epic project is in its final planning and production stages. CAR visited Aston Martin HQ in spring 2019 and talked with executive VP and chief creative officer, Marek Reichman.
'We're approximately two years in, as we signed the first paperwork in Melbourne in 2017,' said Reichman. 'The first engines are being mounted to the first tubs that will form part of the crash program, but they'll do a lot of our development testing as well.
'Engines are providing all of the power we intended and, in fact, they're actually a little ahead of schedule. The tub is on time, and now it's putting the first full car together; we will have a car that will be running and testing before it goes into crash testing,' Reichman added.
At the same time, Aston Martin also revealed an AMR Track Pack (see below) for those who are currently in the incredibly detailed process of specifying their own Valkyrie. Aston claims that the Track Pack can deliver around 8% quicker lap times for those looking to muster every last millisecond out of their track time, depending on track conditions.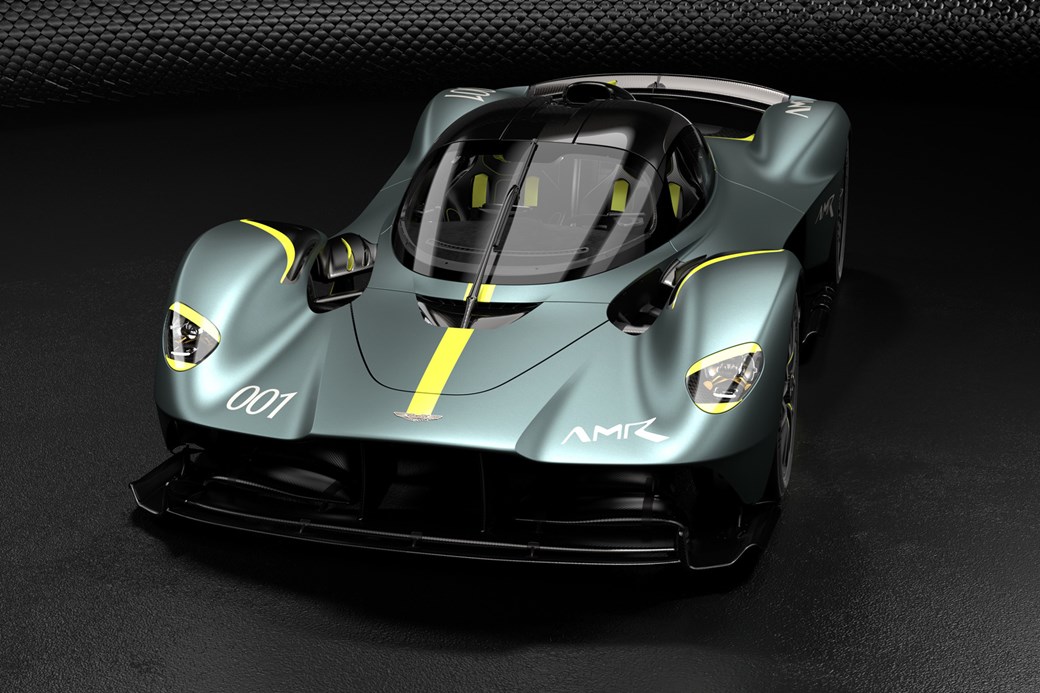 What's in the Track Pack? Well, there's a new front clamshell and a whole new set of body panels for even better aero, superlight titanium brakes, magnesium wheels with carbon aero discs and a new suspension setup that includes updated dampers and roll bars, plus a 50mm decrease in ride height. The whole pack takes Aston Martin two days to swap the panels around.
See below for the headline specs on the new Aston Martin Valkyrie's V12 (without hybrid figures added in):
Engine: 6.5-litre V12 with 65deg bank
Maximum power output: 1000bhp @ 10,500rpm
Peak torque output: 546lb ft @ 7000rpm
Redline: 11,100rpm
Engine weight: 206kg
Specific power output: 154bhp per litre – with no turbos!
Performance: Sub 3.0sec 0-62mph, 200mph+ top speed
Transmission: Seven-speed sequential, rear-wheel drive
Price: £2.5m (approx. without options)
Weight: 1050-1100kg (est)
On sale: First deliveries 2019 (all sold)
Keep reading for more on the Aston Martin Valkyrie…
Designed with plenty of F1 experience and materials, the vital stats of the 6.5-litre V12 read more like something you'll find on a pitlane walk at the British Grand Prix:
The engine might have no turbos, but there is a battery-electric boost system that'll be divulged in due course. We already know the V12 is a fully stressed element of the chassis and Aston's brief bears a wonderful simplicity: 'To create the ultimate expression of the internal combustion engine.'
Hearing the video above, it's Amen to that, we'd say.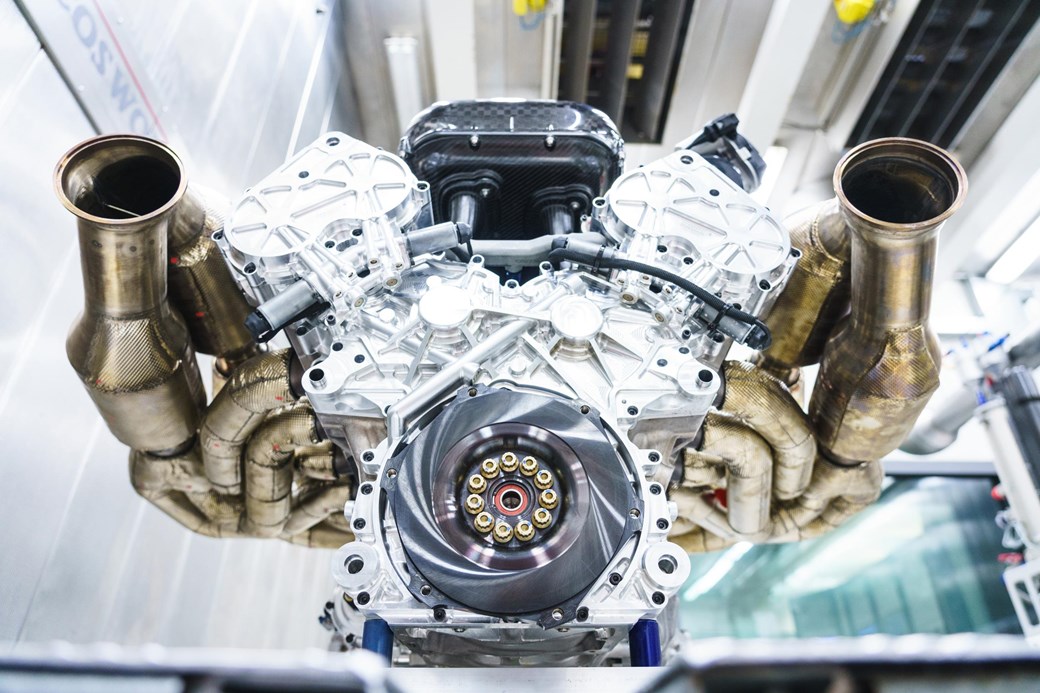 The all-new engine is a bespoke naturally aspirated 6.5-litre V12 from Cosworth. 'The engine had to be bespoke,' Adrian Newey says. 'We spent a lot of time looking at the obvious alternatives to a normally aspirated V12 or a turbo V6 or V8. We came to the conclusion that. from a technical standpoint. a V12 was the best solution because although the engine itself is heavier it is actually a much easier package to install.
'You haven't got the turbos and the charge coolers to clutter up the back end of the car. It's a naturally very well-balanced engine, and that means it can become a fully stressed member without putting excessive vibration into the chassis structure.'
'I was concerned that if we mounted a V6 or V8 the vibration would be excessive and make it unpleasant from both a comfort and noise point of view in the cabin. When it comes to the acoustics, which is important, a V12 with a 12-into-1 exhaust system – which this car has – is a much more exciting sound than a turbocharged V6 or V8 will ever make.'
'To get that much power, the naturally aspirated engine needs to rev very high,' notes Aston Martin engineering chief David King. 'To compensate, we're also using electric hybrid power for extra low-speed torque.'
Christian Horner on the new 2019 Aston Martin Valkyrie
At the 2018 British GP at Silverstone, Red Bull's Christian Horner gave CAR magazine an update on Aston Martin's new Valkyrie, covering everything from when testing will begin, to future supercars and racing against the Mercedes-AMG One.
'It's been progressing well,' said Horner. 'It's just in the final drawing releases during the course of this month. Chassis one is on the verge to completion and we should start running with the car late-summer autumn of this year. The parts that are coming through look beautiful, it's a piece of engineering art, unlike anything I've ever seen in a road car before.'
Will it go racing?
Aston Martin and Red Bull are seriously considering racing in a new GT1-style WEC series. Toyota has already confirmed it'll be racing with its Gazoo Racing concept, but a championship with track-focused hypercars might actually happen.
'I think it'd be fantastic to see the Valkyrie racing at Le Mans against the Project One from Mercedes, Ferrari are rumoured to being doing a hypercar and maybe Lamborghini,' said Horner. 'To see those brands going against each other would be fantastic – if you can find a way or balance of power that works. You've got very different concepts but I think Jean Todt's vision is to see these fantastic hypercars coming forward to compete against each other.'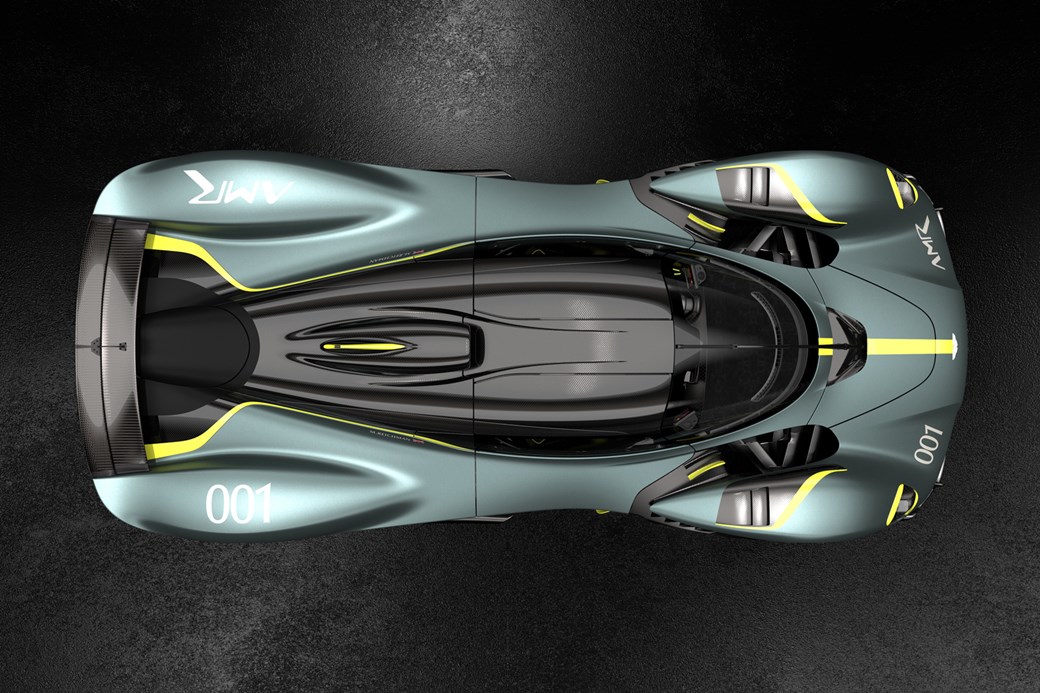 And as for the Nurburgring? 'It'd certainly be fun to have a go at [the record], ' says Horner. 'I think with the track version of the Valkyrie, so it's early days yet but something that has whet everybody's appetite.'
Adrian Newey's ultimate road car
Newey had long wanted to design a road car. 'I've been wanting to do something like this for years,' Newey tells us. 'Sometimes when I had a few idle moments I would doodle some ideas and throw them in a box where they have slowly gathered dust over the years. In 2015 I thought it was time to do something with them so I agreed with Christian Horner [Red Bull Racing team principal] that I would start work part time on such a project.
'We assembled a very small team, a chief designer, an aerodynamicist and a surface designer to start work on it from a mechanical package and aero shape point of view. We worked through the autumn of 2015 and then started discussions into what we do next.
Do we find a private investor to partner with or do we approach a car company? In the end both Christian and I thought it best to partner a car maker. They know all about things like distribution, sales, servicing, emissions regulations and door seals – all the areas in which we have no experience.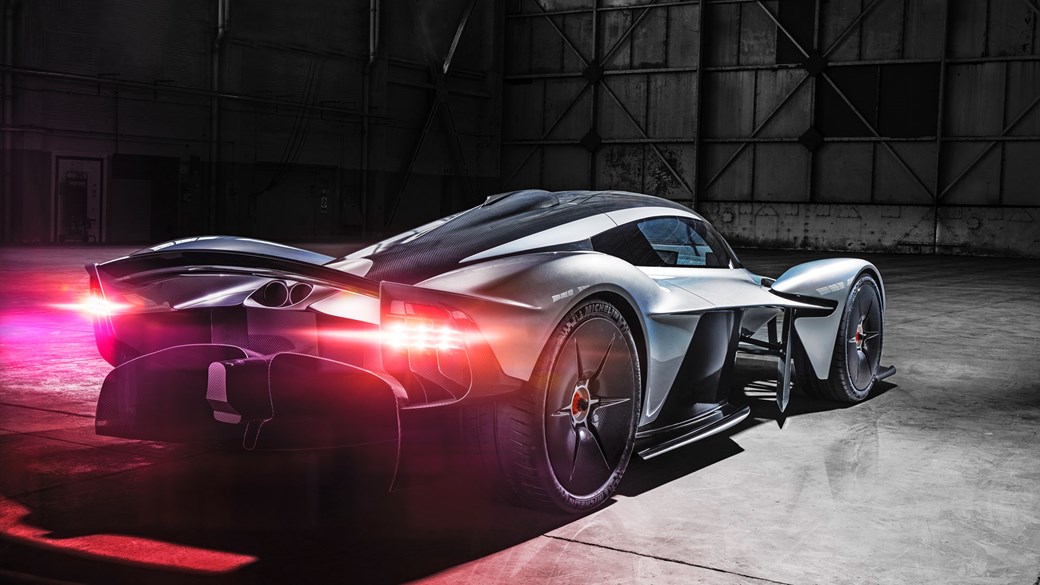 'Aston Martin was clearly the favourite, only half an hour or so drive away and clearly a very appropriate company. That was an easy choice and we already knew Andy Palmer, Aston Martin's CEO, which made it a very simple deal.'
Red Bull and Aston Martin got talking, as did Newey and Aston design boss Marek Reichman. The upshot is the Valkyrie, which will be the fastest and most advanced supercar – or hypercar – in history. The high-speed tech is mostly Red Bull's and Newey's, the top-hat design is by Aston Martin. The difficult jobs of developing, manufacturing, styling and servicing the car were Aston's responsibility. It would wear an Aston Martin badge, after all.
A spiritual successor to the McLaren F1
There are numerous parallels with the McLaren F1, the best supercar we have driven, and the single biggest advance in high-speed sports cars to date. Murray was dismissive of contemporary supercars and Newey today is similarly uncomplimentary.
He describes the current 'state of the art' hypercars – the McLaren P1, LaFerrari and Porsche 918 Spyder – as 'big, clumsy and heavy. And it's not just supercars. It's the way the car industry has gone, from old Mini to new Mini, from old Ford GT40 to the newer Ford GT. I wanted to avoid this and keep the car compact. I wanted, in effect, a two-seat Formula 1 car in its underlying architecture.'
As with Murray and his McLaren, he told us he also wanted a car of two characters. 'It will have a new level of performance on road or track compared with any other road car. At the same time, it's comfortable if you're stuck in traffic or cruising the motorway.'
Newey says they were hoping for 1000kg, but won't quite achieve it. (So was Murray with the F1: he told us it was the only metric he failed to deliver.) Naturally the car has a carbonfibre monocoque, bodywork and suspension, made using Formula 1-standard materials and construction.
Electronically-aided transmission
'Only a small proportion of the power comes from the electric motor, sited within the powertrain. Any more, and the lithium-ion battery pack would be too heavy,' King continues. The electric motor will help with pull-away from a standing start – so the clutch doesn't get stressed – and will help smooth out gearshifts. It will also offer reverse gear.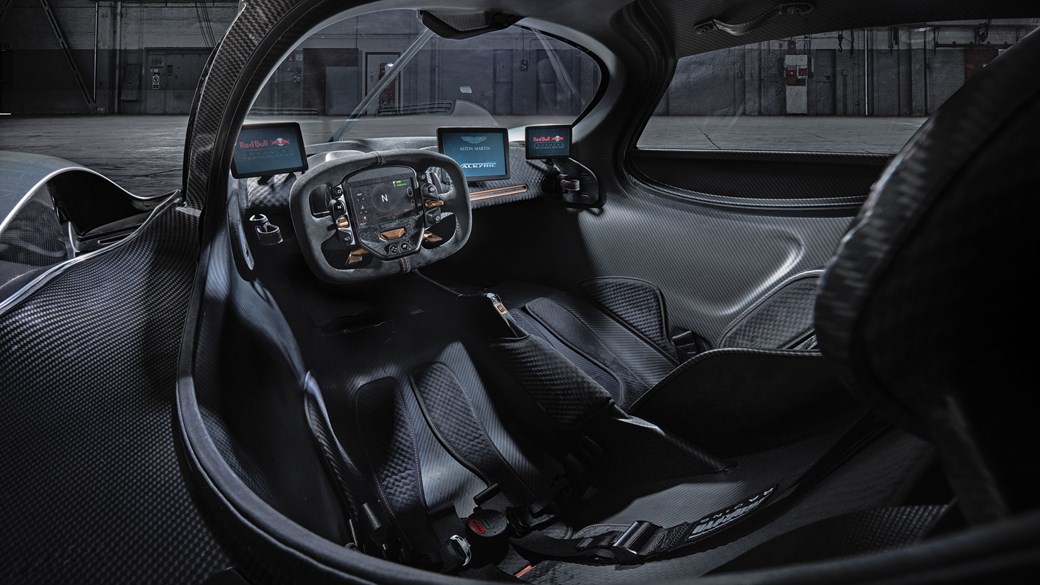 The gearbox is a Newey-designed single-clutch sequential 'box, engineered and built by Ricardo. It has seven ratios and shifts are by F1-style paddles. The transmission drives the rear wheels and is very compact to allow plenty of room for the big underbody venturi tunnels, crucial for good aero.
Design
In many ways, the Valkyrie is more advanced than a Formula 1 car. It has active aerodynamics and active suspension including variable ride height (both proscribed by F1 rules). 'These are all the things Adrian would love to do on an F1 car but can't,' says King.
'Adrian is so dedicated to his ideas. But by the same measure, I didn't want this car to look like an LMP1 car that was a slave to aero. It had to have an Aston Martin aesthetic. But we have achieved function and beauty together. And that's what's so important about this car.'
Reichman wanted a different language from Ferrari and McLaren. 'The cooling comes from below and above, not from big side radiators. That gives a very different aesthetic.' He describes the new look, as 'agile, lithe, elemental and with a unique Aston Martin form language, and a real bloodline from the Valkyrie. It'll be a lighter and more efficient supercar.'
Aerodynamics
Kneel down low to look through the nose and it's like peering at an F1 car close up: high nose, big front wing hovering above the tarmac and wide aero tunnels channelling air through the car's smooth underside. From the rear, two vast underbody venturi tunnels incorporate a rear diffuser with mechanicals suspended from a smooth-surfaced pod in the middle. It's an F1 car with a slither of a sports car body. It's low, small and very sleek.
The canopy is small and narrow, and so is the cockpit. The doors are gullwing and their opening apertures are small. Although vaulting the high carbon sill does take some athleticism, it's easy to get comfortable on the exiguous seat (all owners, naturally, get bespoke fittings). There is a choice of left- or right-hand drive.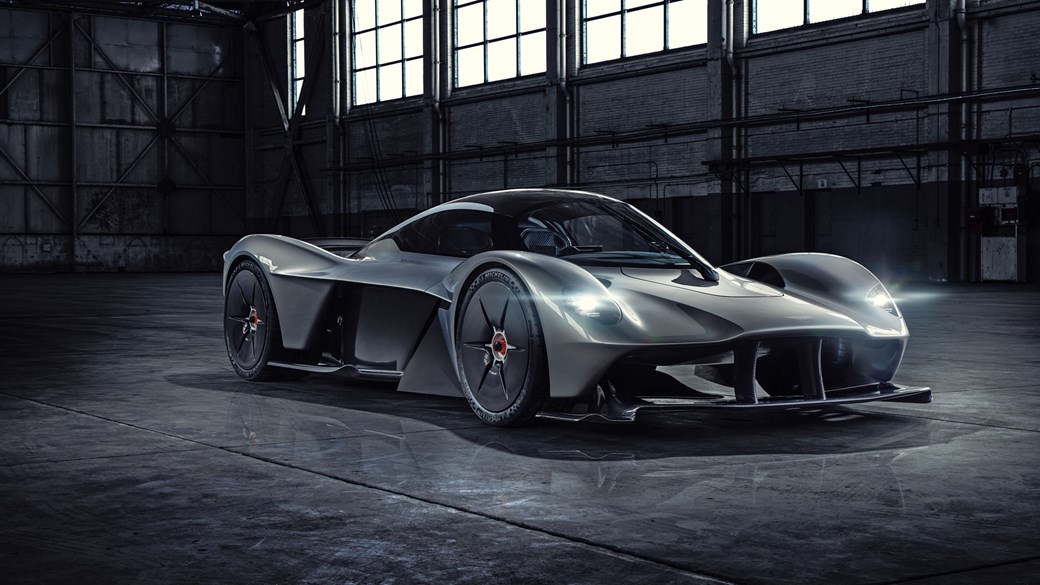 You sit very near the car's centre-line and very close to your passenger, but there is decent fore/aft room, though. Reichman is 6ft 3in tall and fits in just fine. You sit angled 2º inwards. You're aware of the feet-up driving position, necessary as air gushes under your feet to work the underbody aero magic.
The vast single wiper lies upright in the middle of the wrap-around windscreen (Newey expects owners to unscrew it the moment they get home). The interior is minimalist, stark and efficient. It has some creature comforts but little decoration. Air-con will be essential. The windows don't open.
Aston Martin Valkyrie: price
Of the 150 cars to be built, at approximately £2.5 million each, King expects about 50 per cent of owners to 'wrap them in cotton wool', and the other half to use their cars regularly, including trackdays. And that's before you start customising it yourself, either at an Aston Martin dealer or the brand's Gaydon HQ.C
As for the buyers? At the 2018 British GP Red Bull's Christian Horner told us that alongside Daniel Ricciardo, 'there's quite a few former and existing [Red Bull F1] drivers that have signed up.'
And going forward?
The Valkyrie and AMR Pro version are the first fruits of Aston and Red Bull's partnership, and we already know they won't be the last. 'We have a growing advanced technology department within Red Bull and we're already involved in the two cars road car and the track version,' Christian Horner told us at this year's British GP. 'We'll be heavily involved in 003, and then we're looking at fourth iteration and fifth iterations too.'
Source: Carmagazine