Well, here it is: Polestar's second production car – the 2 saloon. It's been revealed in an online-only event, as Polestar says that approach will 'eliminate the environmental impact of flying guests around the world.'
Then it'll be shipped to the 2019 Geneva motor show where journalists, motor trade folk and members of the car enthusiast community will fly in from around the world and look at it in a convention hall anyway.
Regardless, the 2 is Polestar's Tesla Model 3 rival and a rather interesting one. It's a significant launch, expanding the fledgling Polestar brand into higher-volume territory, as it bids to capitalise on the world's gradual shift away from fossil fuels.
The Polestar 2 looks rather familiar
Right? Cast your mind back to 2016 when Volvo revealed two new concept cars named Concept 40.1 and 40.2. While the 40.1 was quickly turned into the chunky and loveable XC40 crossover, the 40.2 was still an enigma.
Now we know what happened. Polestar managed to get its cool, electrified hands on it and the Polestar 2 is almost unchanged from that first preview. A three-box saloon shape jacked up like a Cross Country model, slimmer Thor's Hammer headlights and a blocky wraparound rear light bar are the key design highlights.T
Like the S60 Polestar Engineered, the 2 comes complete with a raft of gold colouring – provided you go for the optional Performance Pack that we'll explain about later.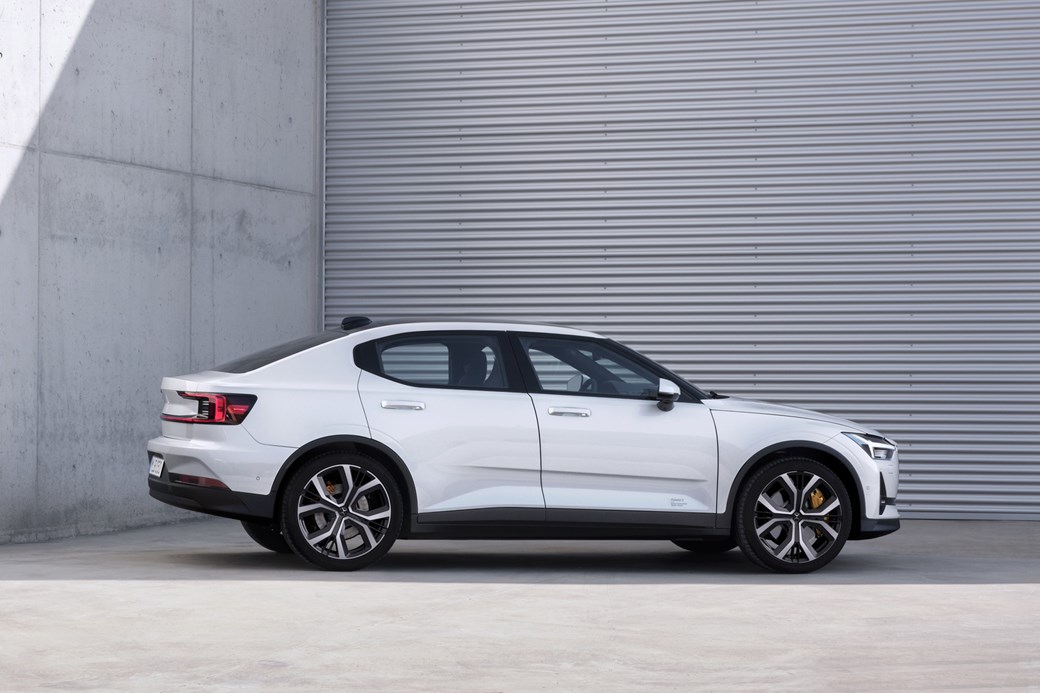 The move to electrification – and autonomy – provides new-found design possibilities, as the Volvo group's three most senior designers, Thomas Ingenlath, Robin Page and Maximilian Missoni explained to CAR in Stockholm.
The trio have prioritised 'clean Scandinavian design' inside and out, as Volvo moves to greater electrification. From 2019, all new Volvos launched will be either hybrid or electric – the first 'mature' car maker to make this move. Five fully electric new cars, including two Polestars, will be launched between 2019 and 2021.
'Electric cars give us exciting opportunities,' says design chief Ingenlath, now also CEO of premium sub-brand Polestar. 'The lack of an engine, more compact powertrains and smaller radiators can mean sleeker front styling and roomier cabins. Underbodies will also be cleaner. This improves the aerodynamics, crucial for driving range.'
He says Polestars will be more boldly designed than Volvos. 'Volvo has a design history defined by comfort, safety, practicality and risk-free nature. Polestar is not bound by [this]. Polestars will be designed more around the individual, and be more progressive and performance-oriented.'
What powers the Polestar 2?
Nothing but pure electricity. Rather than a hybrid performance showcase like the Polestar 1, the Polestar 2 is designed to be more of a high-volume model that'll take on the Tesla Model 3.
So, underneath the sleek bodywork is a 78kWh battery pack that claims up to 311 miles of range on one charge. All-wheel drive and a powerful motor makes 402bhp and 487lb ft, making the 2 capable of a sub-five second sprint to 62mph.
Polestar also says a Performance Pack will be available that, along with the aforementioned gold accents, will include Öhlins dampers and Brembo brakes.
What's it like inside?
It's not just a straight Volvo clone like the Polestar 1 coupe. The brand points to the all-vegan interior, as leather upholstery fast becomes such a 20th century idea. Design boss Maximillian Mission says it 'will appeal to the forward-thinking audience' who will be supposedly putting money down on one.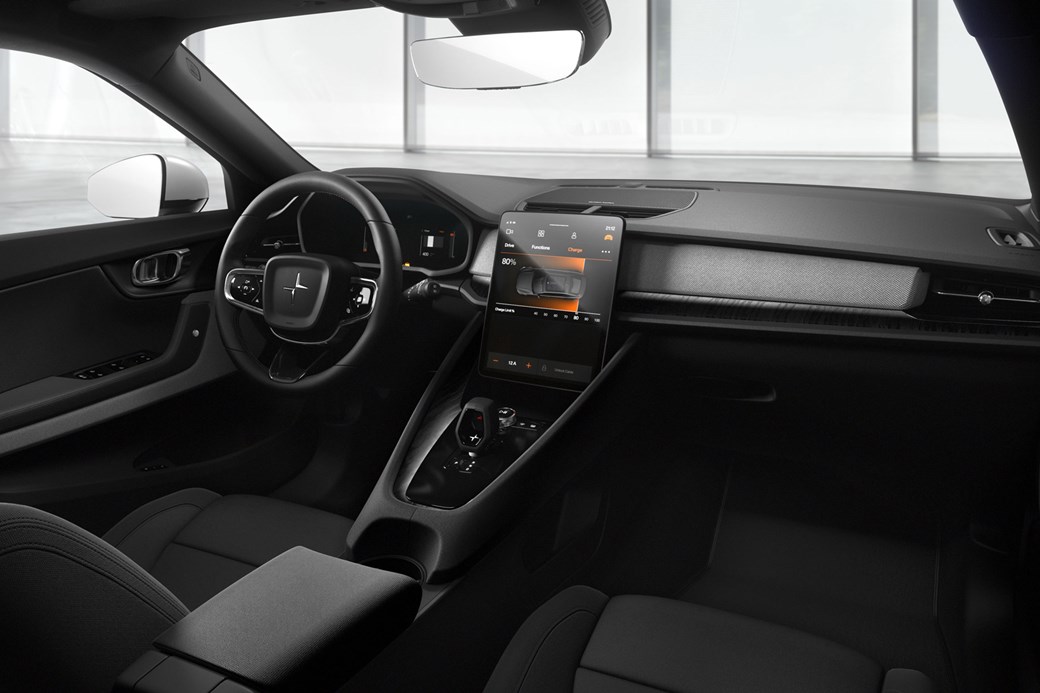 The crux of the cockpit is a new infotainment system with an 11-inch display that has Google's Android operating system embedded in it. Gone is the usual Sensus system, replaced by a more flexible and widespread architecture that should allow for easier updating.
Using Android also allows access to Google Play's app store and Google Assistant, which means a more natural way of speaking to your car than some other voice assistants.
The rest of the Polestar family
The Polestar 1, revealed in 2017, was based on 2013's comely Concept Coupe. The Polestar 3 will be a large SUV, likely in 2021. Apart from Polestar 1 – a plug-in hybrid – all new Polestars will be fully electric.
When can I buy a Polestar 2?
You can place a reservation now and is only available to order online, with production starting in early 2020. Along with purchasing it outright, it'll be available on a subscription service much like its Volvo sibling, but the Polestar service provides more for your monthly payment, namely pick-up and delivery of your car for its service. Polestar expects the 2's ownership share to tilt more towards the subscription method rather than paying up front for one.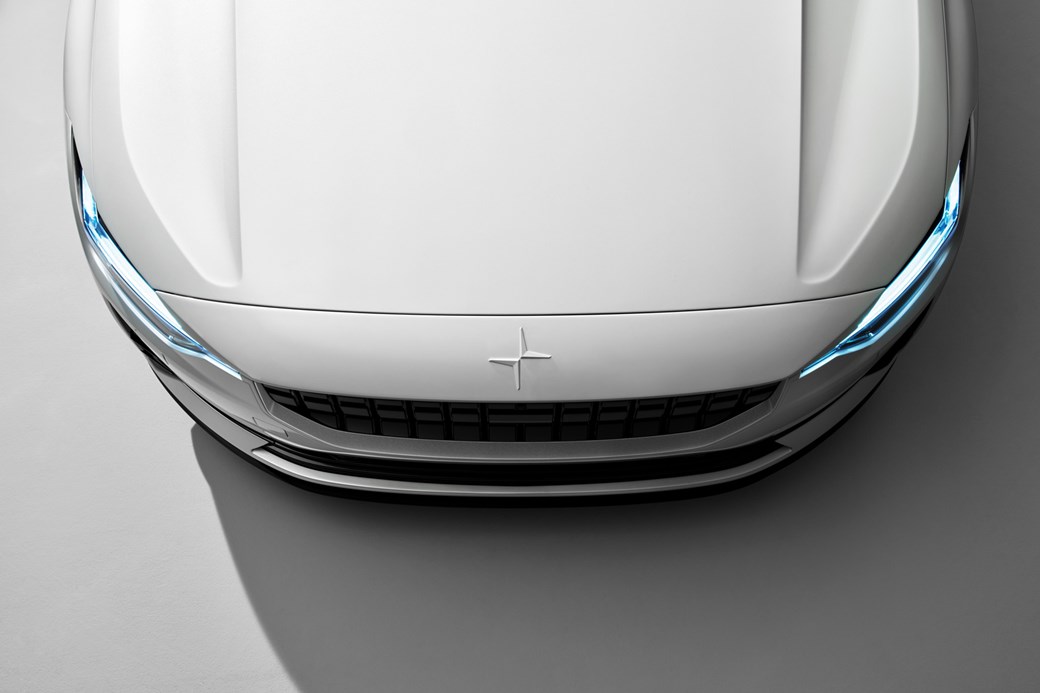 Nailed-down UK prices aren't available yet but, for continental Europe, a guide price starting at €39,900 for the German market will give us a good idea – expect around £40,000 in Blighty for an entry-level one. A launch edition comes in a €59,900. 
Source: Carmagazine