China influential automaker Geely launched the Baorui GE on May 28 in Ningbo Hangzhou Bay New Area. During the launching ceremony, Geely also launched its latest new energy strategy. It is show off that the Baorui GE has a PHEV version and a MHEV version including 8 variants with price range between RMB 136,800 and RMB 199,800.
In terms of technology, Geely delivered new energy powertrain system, Zhiqing covering four technology routes, namely pure electric vehicle technology, alternative fuel vehicle technology, hybrid vehicle technology and hydrogen fuel battery technology.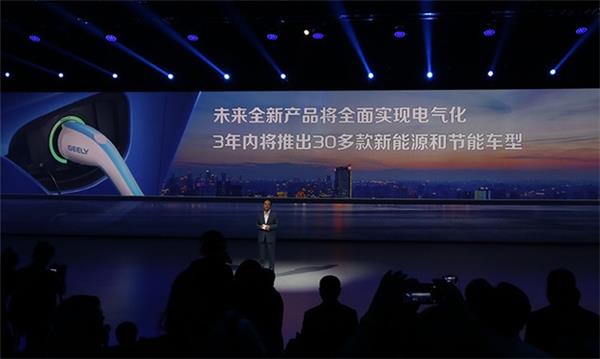 Geely goals to realize full electrification for all its products in the future. In next three years, Geely will present more than 30 new energy and energy-saving vehicles.
In terms of pure electric vehicle technology, Geely had improved its own technologies of electric motor, battery and electronic control. The all-new Emgrand EV450 launched this year has a range of 450km. By 2020, the model's range is expected to be increased to 500km.
Geely has three kinds of hybrid vehicle technologies, including mild hybrid electric vehicle (MHEV), hybrid electric vehicle (HEV) and plug-in hybrid electric vehicle (PHEV). Specifically, MHEV has secured fuel-saving rate of 15%, and plans to increase the rate to 25% by 2020. Based on Geely's self-developed P2.5 architecture, the PHEV technology realizes transmission efficiency of 97%. In the future, the architecture will see 30% power improvement and 50% fuel saving rate.
In alternative fuel vehicle sector, Geely has been striving to research and develop for 12 years in a row in methanol fuel vehicle. By far, the automaker has finished the development of four methanol powertrains and 14 methanol fuel sedans, as well as obtained nearly 100 relevant patents. In addition, Geely is expected to release the mass-produced hydrogen fuel cell vehicles by 2025.
Geely showed its ambitions and deployment in new energy sector during the launching ceremony. CEO of Geely Auto Group stated that Geely targets to be the leader in new energy preservation technology area in China.