Kids don't want cars, but they might want this. It's the Ami One, and it's Citroën's vision of an electric two-seat city car. Smaller than a Smart ForTwo, it's closer to the Renault Twizy in essence, but rather more conventional in layout. If it goes into production, it could be hired like a Boris bike, shared like a pool car or leased for up to five years, but it could also be bought outright.
About to be seen at the 2019 Geneva show, the Ami One marks Citroën's 100th anniversary by continuing the French manufacturer's long tradition of innovative low-cost transport, but it's not a retro design.
How is it not retro? Look at it!
Standout features include near-identical doors: rear-hinged for the driver, front-hinged for the passenger. Aside from the novelty value, and easy access for the driver, it's also part of a cost-conscious approach to design that minimises the number of different parts. Similarly, the front and rear bumpers are the same parts, just positioned differently.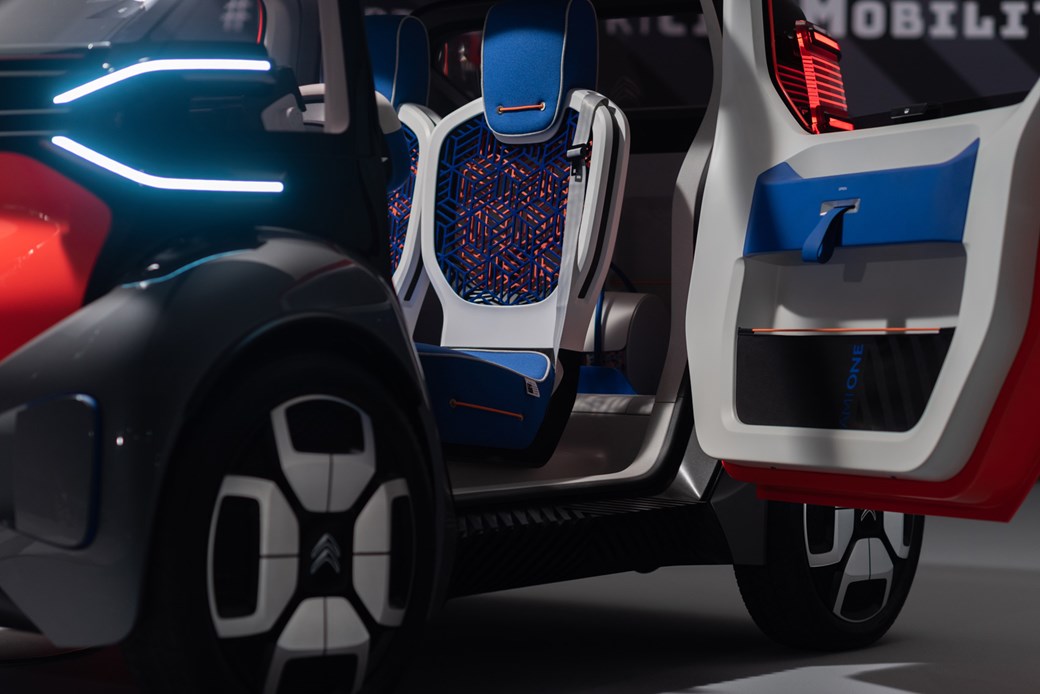 It's not quite a cube, being slightly longer than it is high or wide, but its stocky appearance gives an impression of sturdiness. The wheels are narrow but tall; diameter is 18 inches.
What about the interior?
It's equally simple inside, where the passenger seat is fixed but the driver's seat slides and tips to give access to the small luggage area behind the seats. There's also bag room in front of the passenger. The windows are manual, with no winders; they're either open or closed, with a simple catch to hold them in place. The elegant mirrors are manual too, as is the canvas roof.
Your smartphone is integral to the Ami One. Slot it into place behind the steering wheel and it powers the information screen, and provides the car with its audio through the cylindrical Bluetooth speaker to the right of the steering column. If you swap between short-term hired Ami Ones, your phone brings the same HMI settings to every car.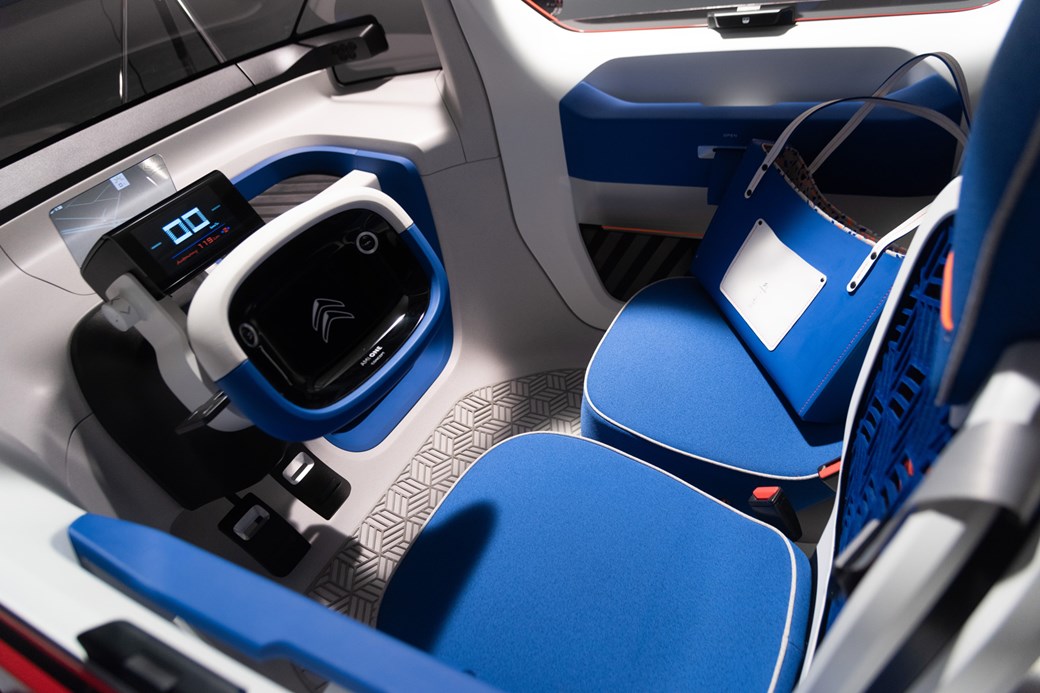 'For the interior, the way to make it affordable was to avoid the redundancy of technology,' says interior designer Jean-Arthur Madeleine. 'Everything is based on the idea that instead of having a lot of displays, everything is coming from your smartphone.'
There's a battery in the floor behind the occupants and a modest electric motor driving the rear wheels. Range is around 100 miles, and a complete recharge using a wallbox should take about two hours. There are no self-driving features.
Citroen's view of the future…
If there's one car in Citroën's 100-year history that the Ami One team had in the back of their minds, it's the 2CV. But that simple lightweight was created for a predominantly rural France, whereas the big opportunity now is finding a way of unlocking the riddle of urban transport.
'We did some research with young people,' says Madeleine. 'They were not all that interested in cars. They don't want a driving licence, but they still want the experience of mobility.'
They also observed how Parisians behaved when they gave one another lifts. 'When you enter a car you have a bag, a shopping bag or a sports bag, and maybe you have your dog with you, and your phone. You want to find a space for your bag directly, without opening the trunk.' So they decided there was no need for externally accessed luggage space – a decision that helped keep the size and weight down, while leaving enough room for two adult occupants.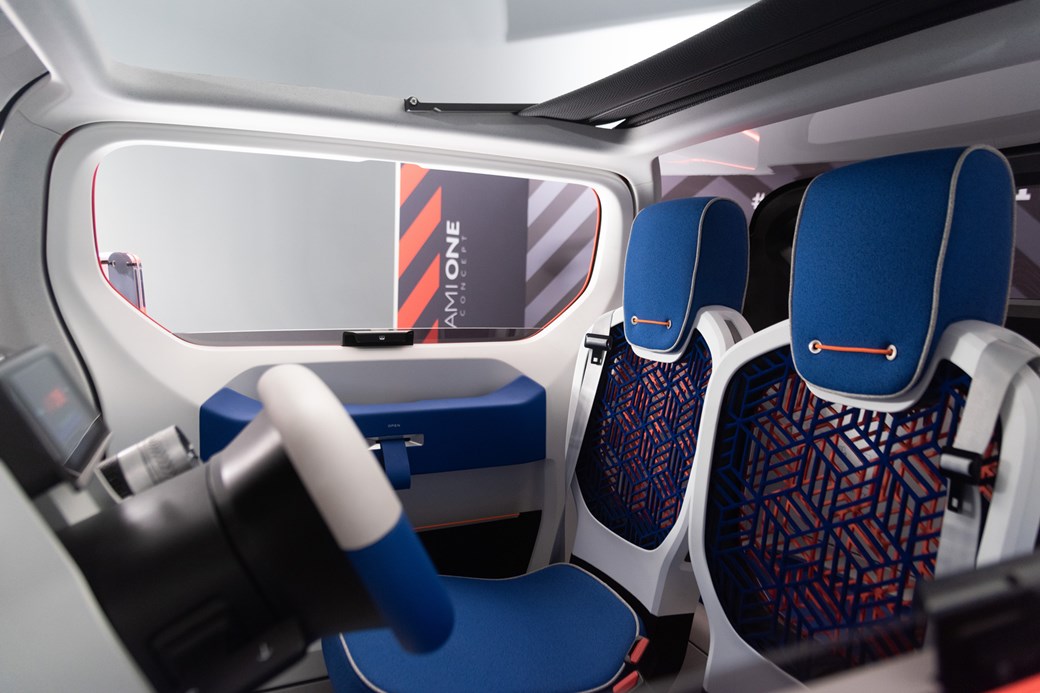 A car that's going to be shared needs to be low-maintenance and easily cleaned – hence public transport and garden furniture provided inspiration for the interior design team. But if it's also going to be sold, then owners will want to be able to personalise it, so expect swappable panels and other cosmetic options.
Although it looks sturdy, don't expect the plastic-bodied lightweight to have the same crash-protection as a conventional car. 'This is going to be with bicycles and electric scooters, at a 45km/h maximum speed. The idea is not to mix with big cars on the highway. For sure there is some safety protection, but it's not what you would see on a regular car.'
Who will be able to drive it?
It's been created to conform to quadricycle regulations, which mean it has the same licensing status as a moped so long as it's less than 350kg (minus battery) and designed to do no more than 28mph. That's a popular approach in France, but has never taken off in the UK.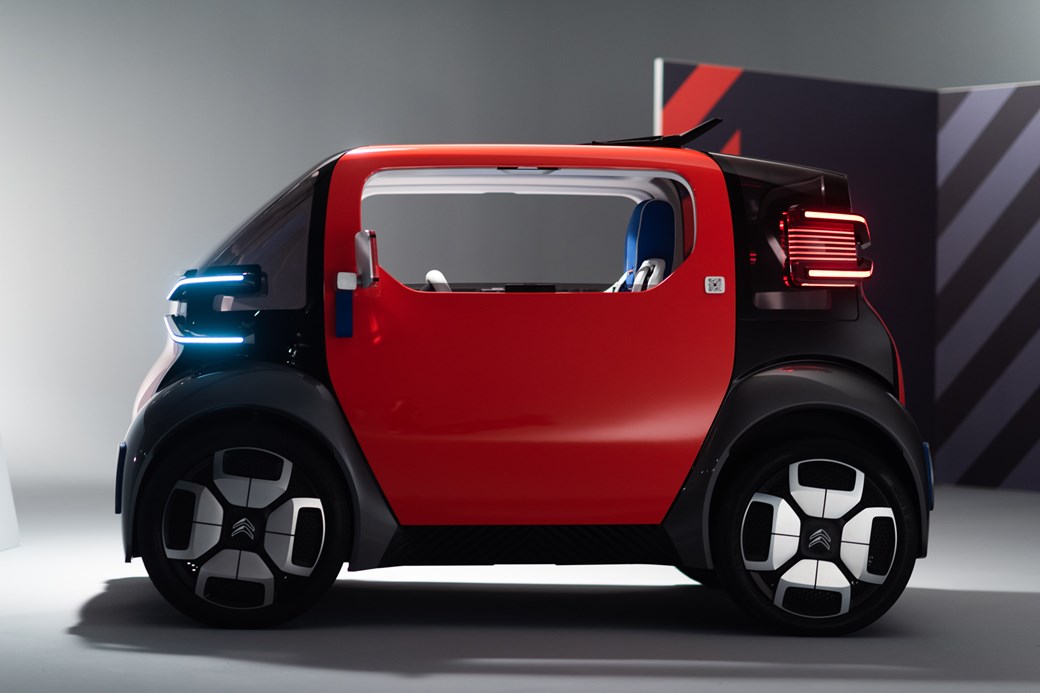 Even if a production version of the Ami One did tick all the boxes to qualify as a quadricycle, sky-high insurance would rule it out for 16-year-olds. Product manager Sébastien Grandmougin says that if it did go on sale – somewhere between 2020 and 2025 – it would be priced not as a premium product but, like the post-war 2CV, as a new way to mobilise the masses.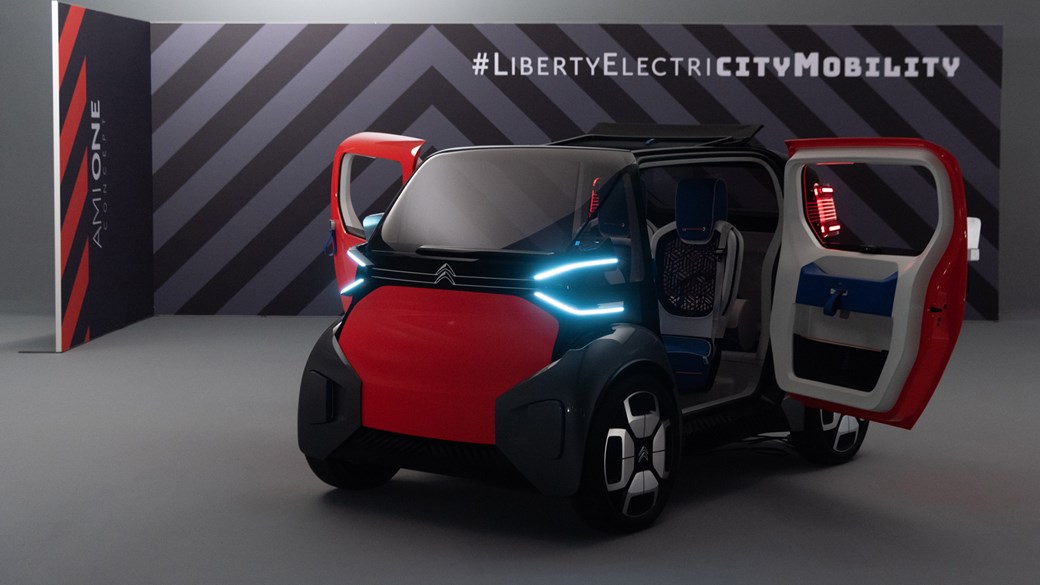 Source: Autoblog