You're looking at the artist formerly known as the Honda Urban EV concept, now called simply the Honda e Prototype. It's the big news at the 2019 Geneva motor show and a great way to draw attention away from the sad closure of the UK's Swindon Honda factory – instead offering a glimpse into a new, more electrified future at a company famous for building high-revving, fun combustion engines.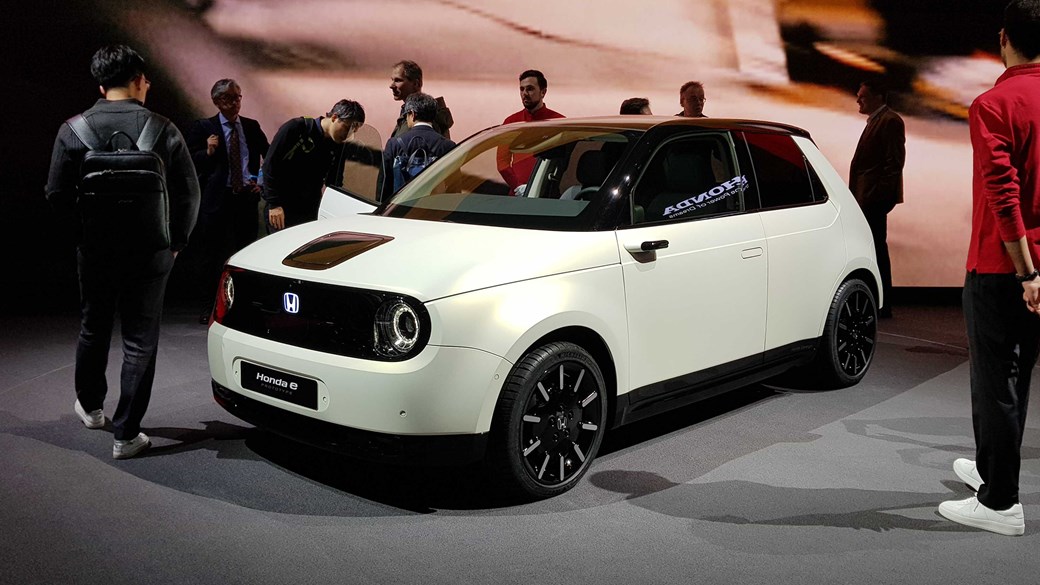 The concept car that wowed the crowds at the 2017 Frankfurt motor show is back, now as a prototype which previews the production electric car, which will go on sale before the end of 2019.
Honda insiders say this latest prototype is '98% representative' of the production car. But have they watered it down too much? Read on for our full findings.
Revealed: the best electric cars and EVs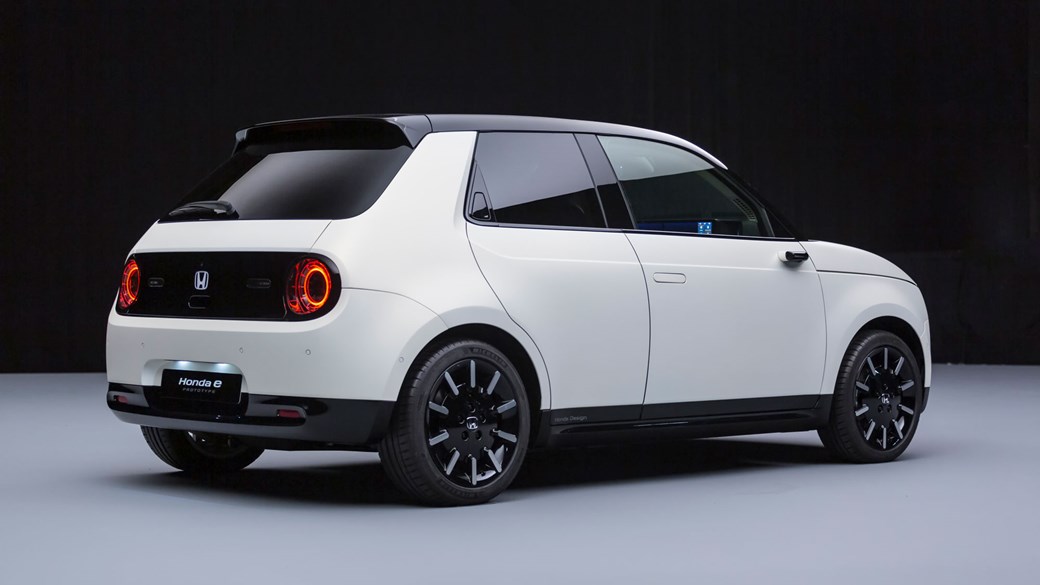 The production car's name is yet to be confirmed, but it's more than likely to have an 'E' in it….
It looks a bit different from the concept car?
Honda says work on creating the production car was already well under before the Frankfurt concept car was created.
Project leader Kohei Hitomi told CAR: 'The concept car was developed to exaggerate certain elements of the production car and check we were on the right path. The positive reception made us feel more confident of the direction.'
While the concept car had two large doors and big wheels, buried within its body close to its shoulder line, the production car will have five doors for practicality, smaller wheels and less exaggerated proportions. It will only be available as a five-door – there won't be a three-door version. While the concept had rear-hinged doors, the production car has conventionally opening doors with a B-pillar. Like the concept car, it's a four-seater.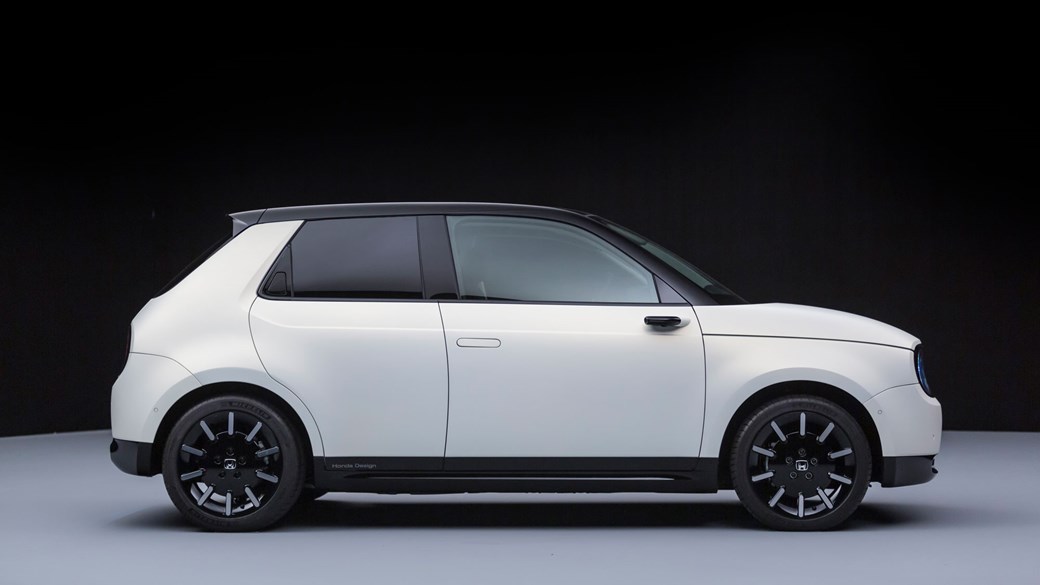 Project insiders freely admit they were taken by surprise at just how positively the Urban EV concept was received. Do they worry buyers may be put off by the production car's comparatively diluted appearance? 'For some people, probably people from the industry, let's say probably designers or motoring journalists,' Hitomi says, tongue in cheek, 'they might like the concept's appearance [more than the production car]. But for the real customer this design is more reachable, realistic than the concept car. I can't imagine driving through an urban area with the concept car. To use in real life, I would prefer the production car.'
Where will the electric Honda be sold?
In select European markets – France, the UK, Germany, Nordics and 'maybe Italy', along with Japan, where it will be built.
How much does it cost to charge an electric car? We explain EV running costs
How far will the e-Honda be able to go? What's the range on full charge?
The WLTP-rated range will be 'in excess of' 125 miles (although Honda sources say that may grow between now and launch). Honda says it is pitching the car very much as an urban commuter vehicle, and that its internal research suggests typical users drive around 30 miles a day.
Is that disappointingly short, when many cars are now delivering 200 miles and above? Be sure to comment below to sound off.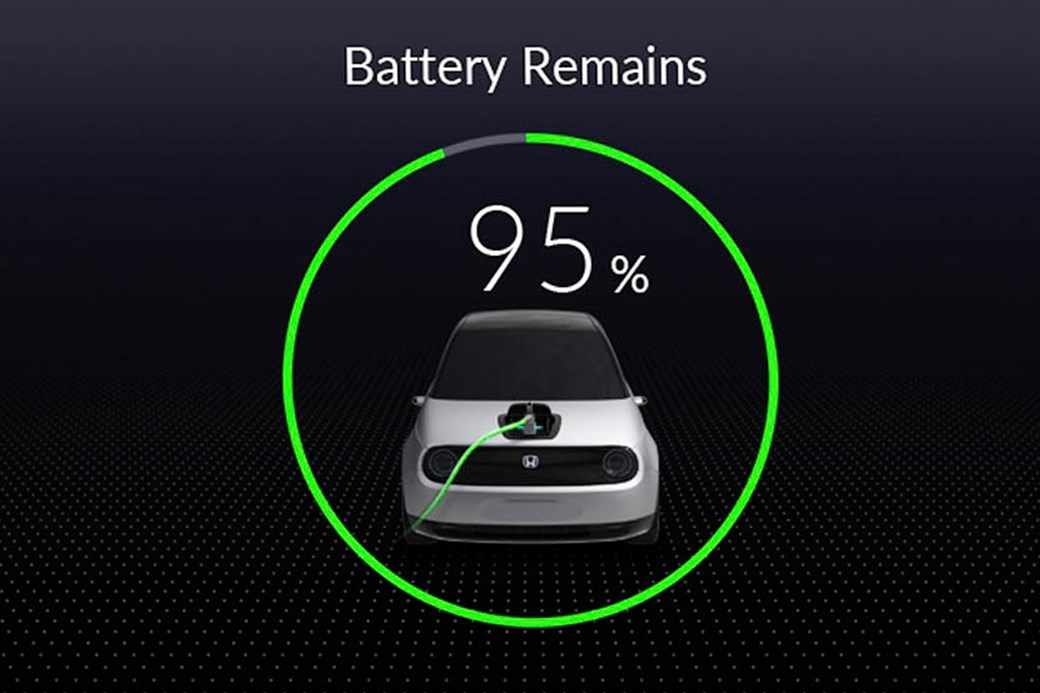 The battery pack is compatible with DC rapid charging to reach 80% range in 30 minutes.
A central location in the nose for the charging socket makes it universally reachable regardless of market. Colour-coded lights illuminate white to help useres find it in the dark, and turn to blue when it's charging, or red if there's an issue.
What's under the skin?
A bespoke platform, which Hitomi says has been designed 'with a certain flexibility, scalable from upper A-segment [city car size] to upper B-segment [supermini].' There are no plans to integrate combustion engines into the platform for other models.
A single electric motor drives the rear wheels. Rear-wheel drive allows for a tighter turning circle, and Honda promises fun driving dynamics too.
The batteries, supplied by Panasonic, are mounted in the floor. They are already in production in the US-market Accord hybrid.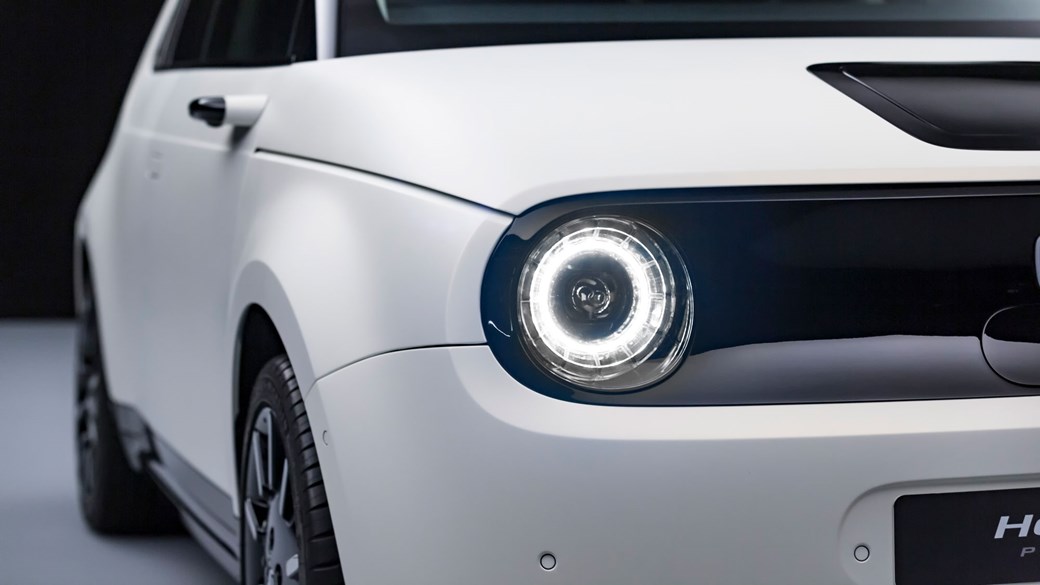 Estimated kerbweight is around 1.5 tonnes (also comparable with the Zoe), owing to the platform's construction in steel rather than the costlier carbonfibre chassis employed by BMW's i3, for example.
How fast will the electric Honda supermini be?
Honda won't be drawn on performance figures but says power will be 'comparable with other B-segment EVs' – the Renault Zoe, for example, offers 87bhp to 105bhp, depending on spec.
How expensive will it be?
It's likely to be at the pricier end of the scale. Pricing won't be confirmed until closer to the on-sale date but Hitomi acknowledges it won't be cheap. Expect comfortably over £20k.
'It's a new dedicated EV platform, and we've tried to reduce cost wherever possible but it's important not to degrade content because of cost; that would somehow stop the evolution of this technology. If you look at the iPhone and iPad, they are definitely not cheap – quite costly, in fact – but still people want them. Their high cost has justification, because they are full of practicality and performance. In many ways, it is the same for this car. We believe we can still target a range of customers despite the quite high price compared to other products.'
The implication seems that this will be a car for affluent leading-edge users, for now at least.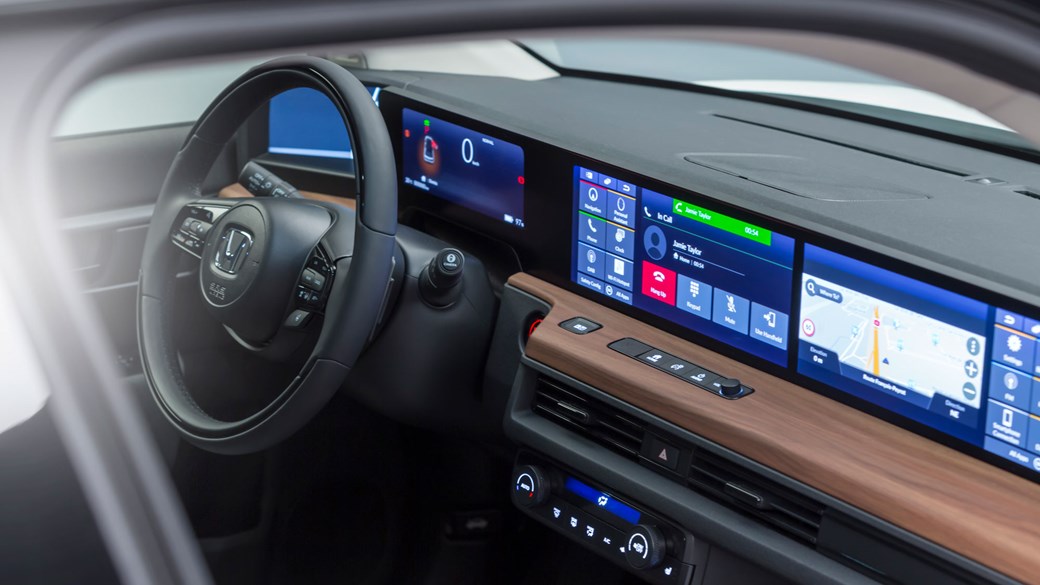 What's the interior like?
Two giant 12.3-inch touchscreens sit side by side on top of the flat-surfaced dashboard (which looks like it's trimmed in wood, but is actually plastic – although it feels reasonably realistic to touch). Their party piece is a distraction-busting co-pilot mode, enabling the front passenger to search for information (a map location, for example) and then swipe it across to the driver's screen.
The screen interface may be rolled out to other Honda production cars in the near future.
Even more futuristically, cameras take the place of door mirrors, displayed on six-inch screens in the corners of the dashboard. In the isolated environment of a photography studio, they appear to work very effectively, showing clear and smooth images of people pacing around the car.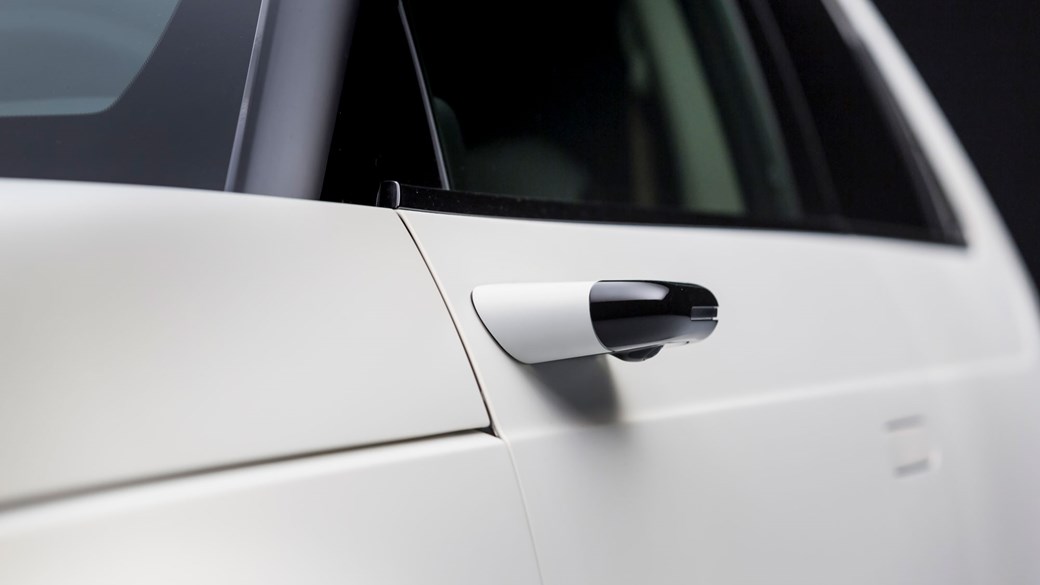 'It was a challenge to incorporate the cameras, and all of the elements into that huge panel,' says interior design leader Akinori Myoui. 'We knew for the future that these elements would be one, so it was important [to do so].' He tells us the door-mirror camera technology wasn't developed specifically for this vehicle – Honda was working on the technology separately, and the EV is a timely car to launch the system for production.
Physical over-the-shoulder visibility past the thick C-pillars seems a little tricky, although may prove easier in the real world. Interior space feels relatively cramped for tall occupants. A BMW i3, for instance, is roomier.
A glass roof is standard fit, which impacts slightly on headroom. The boot is also comparatively high and small to accommodate the motor beneath.
It looks quite retro in style?
'We didn't intend a retro feel from the beginning, just to have a pure design [but] we realised that ideal and retro [design movement] had a lot in common,' exterior design project leader Ken Sahara told CAR as he talked us around the e Prototype. 'Cars in the '60s/'70s cars with circular headlights and so on were simpler, and there is a connection somehow [to what we wanted to achieve with this car].'
'Recent Honda design has been in a more aggressive, sporty direction but I think in the future the differentiation is going to be how rooted a car can be in your everyday life, how friendly, how familiar. It's a European-centric model and Honda's presence is not so big in this market. So the timing is a good opportunity to introduce new design items such as frameless doors and pop-out handles.'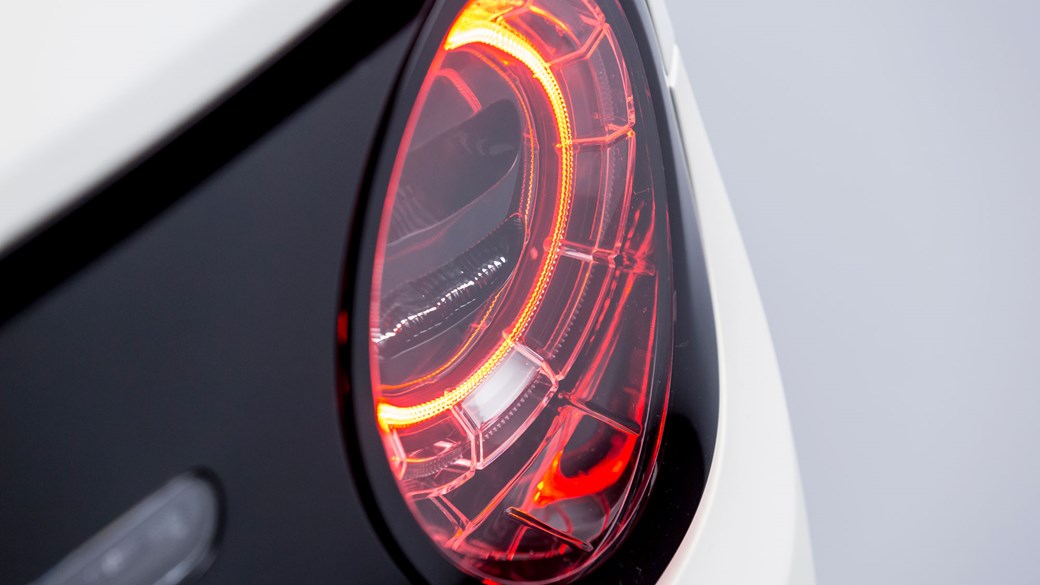 The front doors' flush handles spring out automatically when a hand approaches. The rear doors have conventional handles, disguised next to the window glass.
He says that although packaging the tall batteries was a challenge, designing a battery-electric vehicle in many ways allowed more freedom than a combustion-engined car. 'I requested shorter overhangs and wider wheels than the Jazz, and it was possible. This car is 50mm wider and 100mm shorter than the Jazz, with the same wheelbase.'
Where the Urban EV concept sported giant multi-spoked wheels, the production car has more demure rims. The e Prototype's 17-inch wheels are production-spec. They will be an option on top-spec cars; 16s will be standard. They still have relatively wide tyres for the car's size, to give it a slightly sportier stance.
The e Prototype is finished in a matt white paint finish. The exact same paint won't be available for production – it's simply too expensive. A range of body colours will be available but all cars will feature gloss black pillars, roof and sills, like the e Prototype; it helps visually reduce the car's height.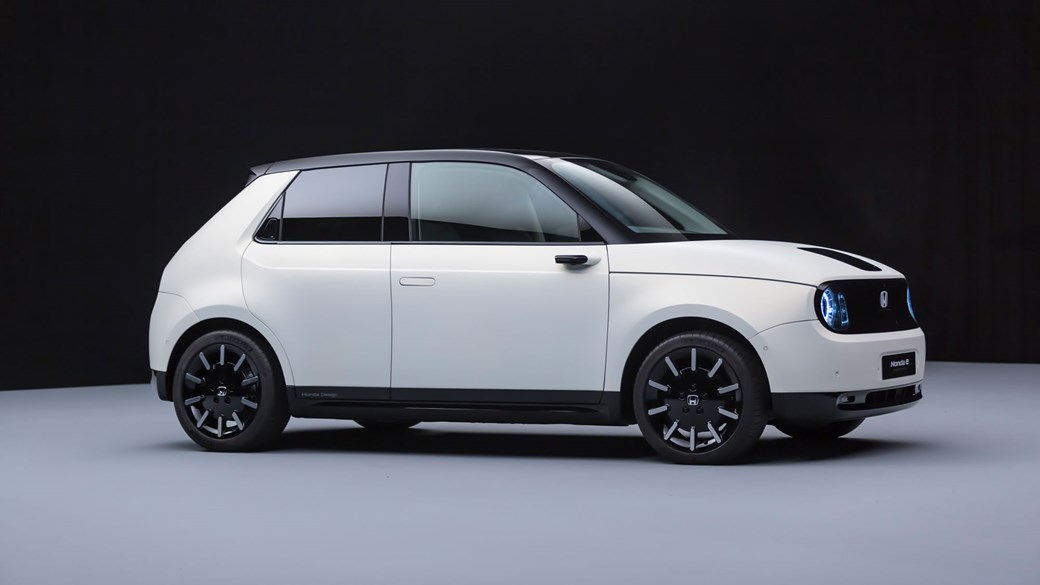 While the e Prototype has striking-looking illuminated badges, they may not make production, due to lighting regulation restrictions.
'Nowadays cars appear very aggressive,' concludes project leader Hitomi. 'We believe customers may be a little fed up with that. A friendlier, cuter car may be welcomed.'
Honda Urban EV: a flashback to the 2017 concept
A compact four-seater with cool, minimalist interior detailing and similarly unfussy exterior surfaces (certainly compared with a lot of Honda's current output…), the Urban EV received 'positive feedback' when it was launched back in 2017, according to Honda Motor Europe's Philip Ross. He's not kidding. The concept was the unlikely star of the 2017 Frankfurt show and the scale of interest tool the Japanese manufacturer by surprise.
Even back then, Honda admitted that the Urban EV Concept was based on a bespoke electric car platform, which featured a high-density, lightweight battery pack, integrated heat management and what was described as the evolution of energy transfer functions – both to and from the vehicle.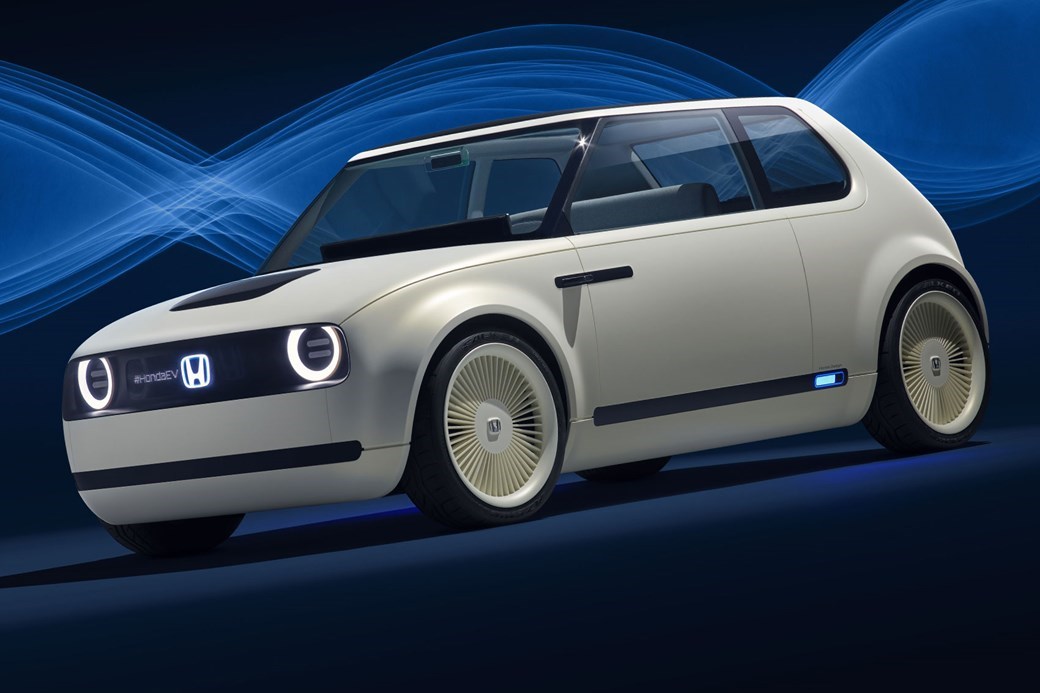 Speaking at the 2017 Tokyo show Honda CEO Takahiro Hachigo told CAR magazine: 'We are going to create a dedicated EV platform for the Urban EV. This is city commuter-sized vehicle, so a small segment car. The Urban EV will be your close friend as a city commuter. We will connect the driver to the car with artificial intelligence – people will have fun driving this car. The model will change the image of Honda and present our determination to electrify our cars in Europe.
'We will position these EVs as iconic cars for the Honda brand because they present our intention to accelerate electrification,' continued Hachigo. 'We are also going to launch a commercial vehicle based on the Urban EV Concept model. The challenge for Honda is reducing the cost of EV production by incorporating EVs in with conventional car manufacturing.'
After the original concept car, we then tracked the car through the prototype phase – and our spy photographers caught regular sight of the new electric supermini (below), as engineers developed it through to production readiness.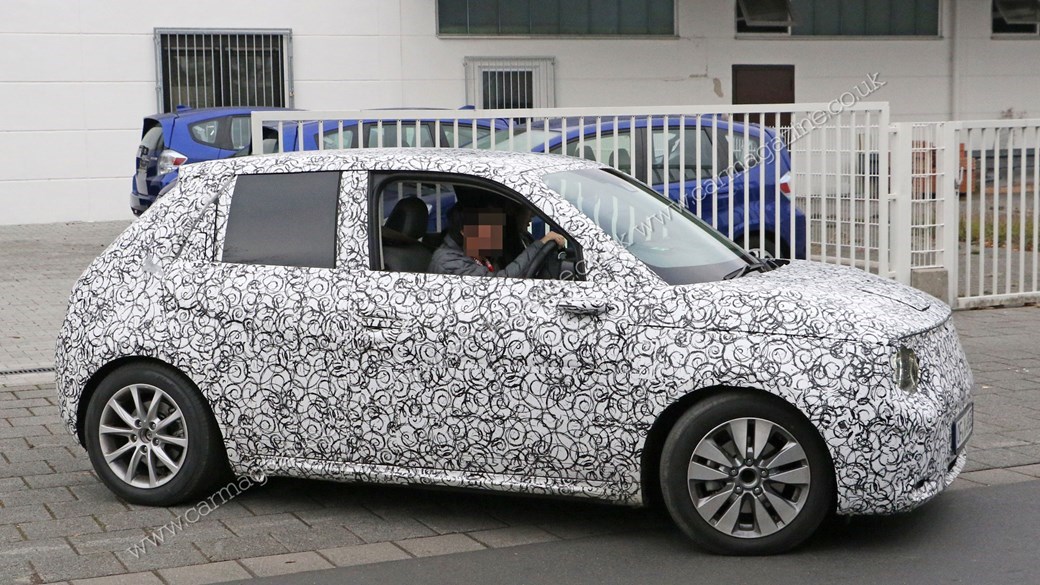 So, not much tech – let's talk design
That original concept car was a lovely looking thing, clearly referencing the original Honda Civic and the N600, with many shades of the Volkswagen Golf Mk1, too – which is a good thing in our books. It's simple and sophisticated, and although it's 100mm shorter than the Jazz supermini, it looks longer, wider and more purposeful.
The blue backlit Honda badge is an interesting feature, which will find its way to all future EVs from the company, apparently. And rather like the Smart Vision EQ ForTwo Concept, the Urban EV has interactive multilingual messages that can be displayed between the headlights. Cute, eh?
What about the Sports EV…

At the Tokyo show in late 2017 the Urban EV Concept was joined on the Honda stand by the equally pretty Sports EV Concept (above), a low-slung all-electric sports car whose chances of making series production are about as slim as its ground clearance.
Source: Carmagazine